Table of Contents
What is CJWDEV and where did it go?
For those navigating the world of Windows Active Directory and NTFS permissions, CJWDEV's tools have often been a go-to solution. Founded by Chris Wright, CJWDEV established its reputation by crafting efficient tools for Active Directory and Windows environments. But there's been a noticeable shift in recent years. The last product updates date back to 2016, and since then, the company's online presence has dwindled. No new blog posts, no participation in forums, and support queries go unanswered. What's perplexing is that their website still accepts payments for licenses. Many unsuspecting customers make a purchase only to later discover the lack of updates and support. If you need more proof, just check out some of the frustrated user experiences on platforms like Spiceworks and Reddit. It's a concerning scenario for IT professionals relying on these tools.





We can confidently conclude that all CJWDEV tools have reached their End-of-Support. Although they might still be functional and could potentially yield satisfactory results, a word of caution is necessary: always double-check the outcomes. Like all software, these tools have their share of bugs. Given the noticeable absence of updates, these existing bugs have remained unresolved for at least seven years.
The last blog post from CJWDEV was dated March 3, 2016. As for the tools themselves, here's a rundown of their last available versions as per the CJWDEV website:
AD Info (1.7.92.0 - 27.01.2016)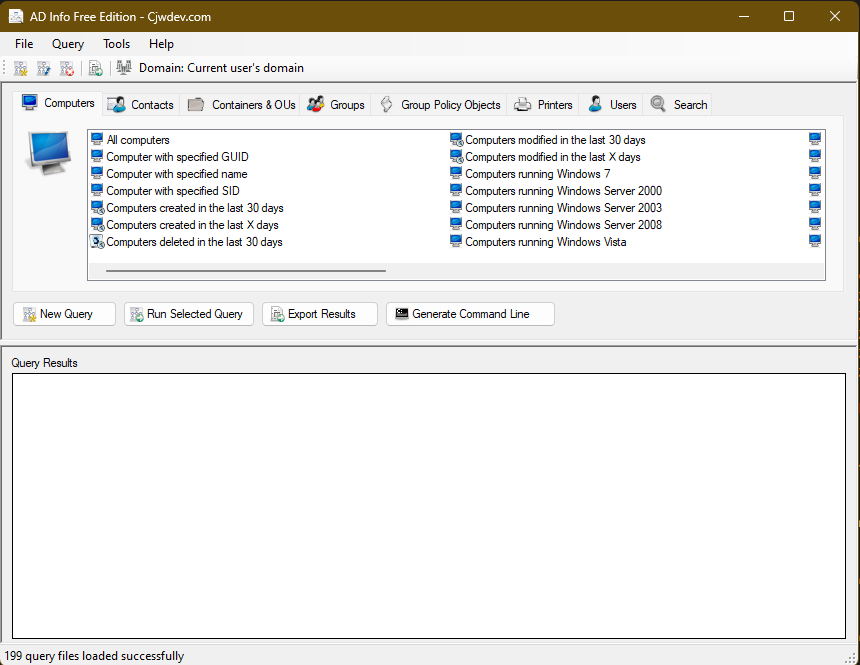 A flexible Active Directory reporting tool with a user-friendly interface. It facilitates custom report generation on users, computers, groups, and more. Offered in Free and Standard editions, with the latter boasting extended features and support.
AD Tidy (2.1.7.0 - 07.02.2014)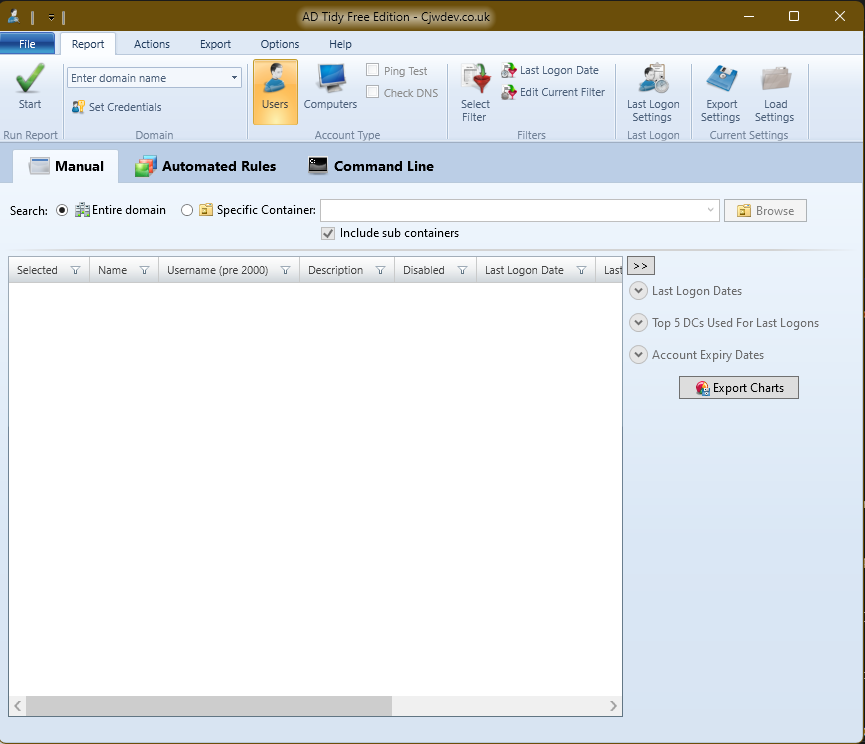 Designed for optimal Active Directory management, it pinpoints inactive accounts and empty security groups. Administrators can also perform diverse cleanup operations. Available in both Free and Professional editions.
Group Manager (2.1 - 03.03.2016)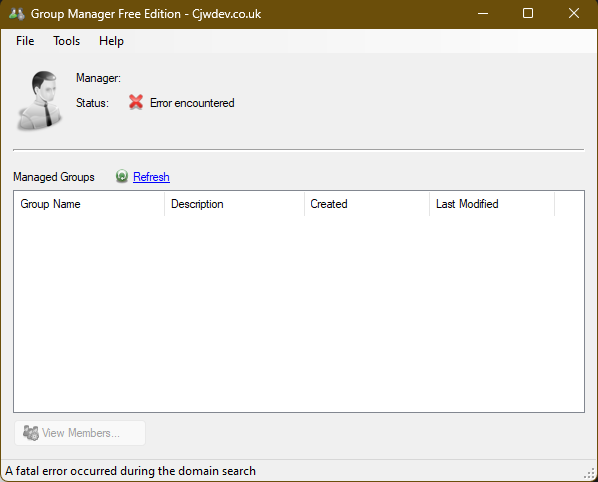 A tool enabling the delegation of Active Directory group membership tasks. It allows specific users or groups to manage memberships without granting full Active Directory access, enhancing security and efficiency.
NTFS Permissions Reporter (2.1.4 - 18.11.2015)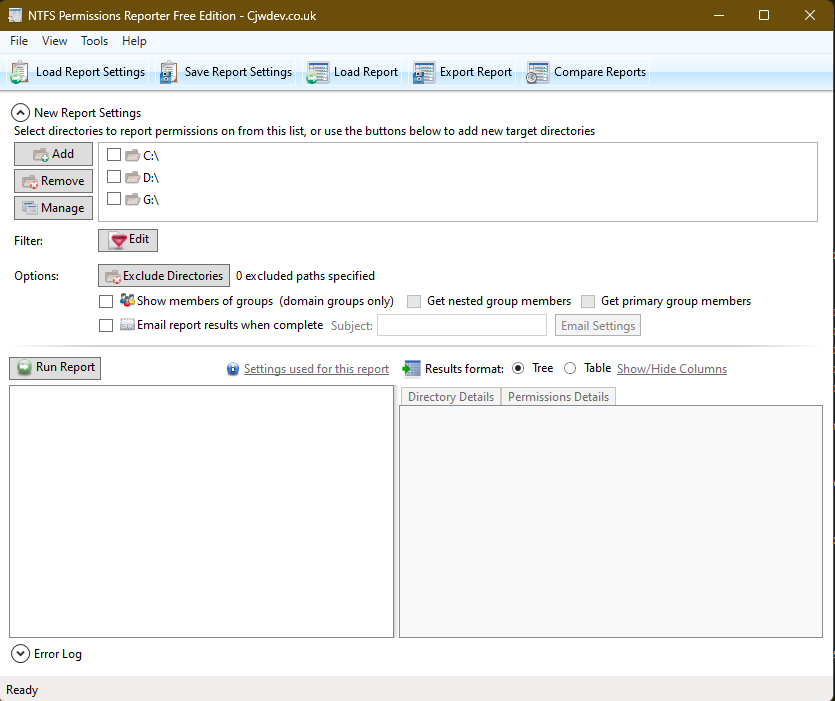 Provides detailed reports on NTFS permissions across Windows file servers. Reports are available in various formats, like HTML, CSV, and XML. Offered in Free and Standard editions, each catering to different user needs.
These tools, in their prime, were invaluable assets in many IT professionals' toolkits. However, given their End-of-Support status, it's now essential to approach them with a heightened sense of caution.
Alternatives
So, what's the next step for IT professionals who rely on these tools? While the gap left by CJWDEV is undeniable, we at Albus Bit believe in continuous innovation and support. We've developed solutions that are not just alternatives but advancements in their own right. Let's explore how our offerings align with, and even surpass, those of CJWDEV:
AD FastReporter is an Active Directory reporting tool designed to simplify and enhance the reporting process. It offers over 250 pre-built report forms that cover various Active Directory attributes and objects. One of its standout features is the ability to create custom fields and report forms, complemented by an easy-to-use filter manager. Regular updates and responsive customer support ensure users have a reliable tool at their disposal. Reports can be exported in formats such as CSV, Excel, and PDF.
Comparison to AD Info
Both AD FastReporter and AD Info provide Active Directory reporting capabilities. While they share some common features, AD FastReporter offers added flexibility with its custom fields and report forms. The filter manager in AD FastReporter further simplifies the process of generating tailored reports, making it a more versatile choice for detailed Active Directory reporting.
NTFS Permissions Auditor is a comprehensive tool designed for auditing directory permissions within Windows systems. It allows users to efficiently analyze and review NTFS folder permissions. The software not only provides detailed insights into NTFS permissions but also integrates seamlessly with Active Directory, offering a complete view of permissions principals and displaying group members when the principal is a group. The Pro version further enhances the experience with advanced filtering and multiple export formats.
Comparison
Both NTFS Permissions Auditor and NTFS Permissions Reporter serve the purpose of reporting on NTFS permissions. They share some foundational features, such as providing insights into directory permissions. However, NTFS Permissions Auditor stands out with its modern interface, Active Directory integration, and the capability to display group members directly within reports. On the other hand, NTFS Permissions Reporter, last updated in 2015, has an outdated UI. Given the advanced features and continuous updates of NTFS Permissions Auditor, it emerges as the more robust and user-friendly choice for detailed NTFS permissions auditing.
AD Group Manager Web is a web-based solution designed for Active Directory group management. Installed on a Windows Server, it empowers group managers to view, add, or remove members of the groups they oversee. The tool is secure, with all data stored on your server, and offers features like Windows Authentication, customizable web app attributes, and activity logging. Managers can view detailed group member information, add multiple members simultaneously, and export group data to PDF or Excel.
AD Group Manager is a desktop application that streamlines the management of group membership in Active Directory. Once installed on a manager's computer, it integrates seamlessly with Microsoft Active Directory, allowing managers to view their managed groups and swiftly add or remove group members. The software is user-friendly, supports multi-domain configurations, and offers customization options for visible group data.
Comparison
Both AD Group Manager Web and AD Group Manager from Albus Bit, as well as Group Manager, aim to simplify Active Directory group management. They all allow managers to oversee group memberships and offer user-friendly interfaces. However, AD Group Manager Web stands out with its web-based interface, advanced customization options, and activity logging. AD Group Manager offers a seamless desktop experience with multi-domain support. In contrast, Group Manager, last updated in 2016, provides basic functionalities and lacks the modern interface and advanced features found in Albus Bit's offerings. Given the comprehensive features of AD Group Manager Web and AD Group Manager, they present more versatile and updated solutions for Active Directory group management.
AD Admin is a tool tailored for Active Directory administration, allowing users to search, manage, and maintain both user and computer accounts within their domain. The software is designed to keep Active Directory domains up-to-date and helps in cleaning up inactive accounts through actions like disabling, moving, or removing from groups. It boasts features such as real last logon time calculation from all domain controllers, chart generation for domain overviews, and task creation for regular domain scans. Additionally, it offers a connection manager for multi-domain environments and the ability to add custom fields as needed.
Comparison
Both AD Admin and AD Tidy are tools designed for Active Directory administration and cleanup. They facilitate the management of user and computer accounts within a domain. AD Admin stands out with its features like real last logon time calculation, chart generation, task creation for regular domain scans, and its ability to manage an unlimited number of domains. It also offers a modern interface and integration with Active Directory for detailed account information.
Conclusion
At the end of the day, CJWDEV has given us some great tools in the past, but it's been a while since their last update. Albus Bit, on the other hand, has stepped up with some fresh and modern tools that do a lot of the same things and even more. If you're looking for the latest features and a smooth user experience, you might want to give Albus Bit's tools a spin. It's all about finding what works best for you and your team.